PVP map for Minecraft 1.16.5 (Creature Combat)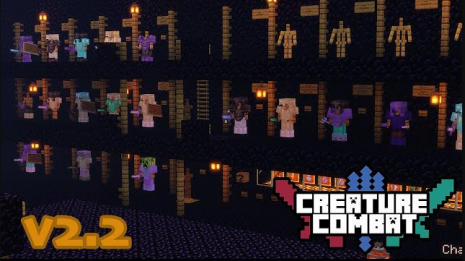 Map to the battle arena of creatures for Minecraft 1.16.5 (Creature Combat). You can fight with creepers, skeletons and drowned people! In two minutes you will be sent back from the Arena to the Spawning Zone. There are goals to be accomplished, achievements to be achieved, and you can choose from many sets. The only thing you will need to do is step on the concrete and you will be able to start! Between versions 1.6 and 2.2, the author removed a total of 2436 command blocks using functions. The whole map is powered by 2803 commands.


Game Modes

There are various game modes that you can play. They will include an Easy Mode, a Hard Mode, a Hiking Quest, a Crafting Course, a Dummy Arena and a Kit Testing Mode. Three game modes can be found on Spawn, the other three can be found in the More Game Modes room. To choose another creature to fight, you can click the button next to the concrete. This will change the style of the entire arena, the rebirth zone and the death room.


Kits

There are 27 kits available, each with different gear or abilities. 15 of them are locked. If you gain enough experience levels, you can buy them and choose. 24 are on spawn, 2 can be created in the crafting process. There is one secret set. You can find it in the game. We shouldn't give you a lot of spoilers.


Shop

There is a shop in the Spawning area. You can buy things like potions, speed feathers, or other items with experience levels. You can also go to a shop called "Enchanted Shop". There you can buy enchanted books to increase the power of your weapons or armor. Finally, there is a future updates room where you can see what features will or may be added in the next updates.


Artifacts

Some creatures will drop Artifacts such as diamonds, emeralds or the stars of the underworld. You can convert these items into Levels!


Information

If you have any problems, you can click the buttons under the question marks in the game.
Screenshots
Map install
Download map from this page
Open downloaded archive and move folder to .minecraft/saves
Run the game and go to Singleplayer. Select the installed map and click play button.
All done!