Beautiful shaders for Minecraft 1.17.1 / 1.16.5 (CrankerMans TME Shaders)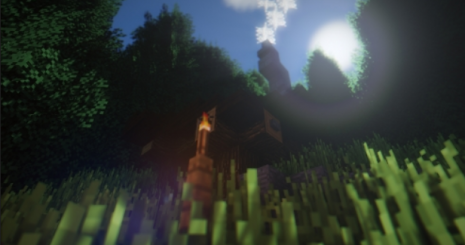 These shaders are very cool and beautiful. They are made in the vanilla style of the game. You will be greeted by beautiful graphics without unnecessary effects, just the craziest detail and a huge number of realistic things. And the main thing is that there is good performance here. This is one of the best shaders, where there are no unnecessary effects and problems.
It is very difficult to describe these shaders, because they are so beautiful that there are simply no words. They do not add absolutely any annoying effects to the game, such as a strange glow or blur. This pack leaves the game as it is, with a clear and smooth picture. But this does not prevent him from adding to the game a good work of light, beautiful rays from the sun, natural shadows, realistic water, focusing on the subject and mobs, and much more.
Shaders have been developed and improved for several years. At the moment they have several different versions, which are very different in picture quality and a set of different effects. But the best looks, of course, is the latest one, which is very well balanced and has a gorgeous image. 
In the first two versions there is not very beautiful and pleasant water. Also, some lighting-related effects look very old and rough. But on the other hand, the effect of dynamic lighting is realized here. This is when an object in the hands emits light into the world. Unfortunately, these versions are very far behind modern shaders and lose to them in everything: beauty, smoothness, quality, performance and much more.
But the latest version copes with its task much better. It has eye-pleasing colors, flawless water, realistic clouds, thoughtful rain. The nights are not dark here. The moon gives enough light. But, alas, there is no dynamic lighting. It is in this version that the performance is the best. Probably the only drawback of this pack is the presence of a bug that strangely changes the lighting at sunset. Where it comes in, everything starts to glow strongly. But he disappears immediately after a couple of moments. Therefore, there is no reason not to install this shader pack and enjoy the game.
Screenshots