Parkour map for Minecraft 1.12 (Mosaic Museum)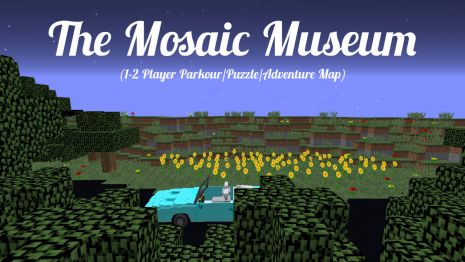 The Mosaic Museum map for Minecraft 1.12 (Mosaic Museum) is an exceptional parkour map that promises players an extraordinary experience unlike anything, in fact, that they have seen before on parkour maps. No matter how funny the parkour maps are, the only thing they all lack is a real situation, and as a result, the gameplay never looks memorable, no matter how pleasant it may be. However, this map takes everything to a whole new level, introducing a real plot into the game, which players will most likely like when they move along the map and park their way through all the difficulties that it has the opportunity to offer.


In the mosaic museum, you play the role of a small boy who moved along an old roadway after the death of his own uncle in order to find at least some consolation. When you were moving, you lost control of the steering wheel at one point and eventually crashed into a secret dilapidated museum in the middle of the forest. When you get up, you realize, in fact, that fate may simply be behind this incident, due to the fact, in fact, that this space seems to contain some kind of association with your uncle, who at one time was the greatest artist. Now you are going to make a parkour in this space in order to reveal all its secrets.


From the point of view of gameplay, the mosaic museum is nothing but a paradox. The gameplay is filled to the brim with unimaginable parkour sequences, there are 3 different game modes, there are special parkour-based puzzles, and tons of new game mechanics. In addition, in fact, it is also quite funny to play on this map, it is pleasant to look at it, due to the fact that it actually contains high-class visual effects, as well as tons of expertly made 3D models, which are simply pleasant to look at. We wish you good luck in passing.
Features
Custom 3D models.
3 difficulty modes.
20+ minute gameplay.
Lots of special audio and visual effects.
Puzzles based on parkour.
Many mechanics based on parkour.
The background of the character.
Screenshots
Map install
Download map from this page
Open downloaded archive and move folder to .minecraft/saves
Run the game and go to Singleplayer. Select the installed map and click play button.
All done!